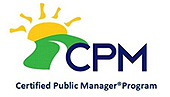 Developing today's public leaders through CPM
In an effort to maintain Iowa's high level of commitment to its citizens, the State of Iowa, in partnership with Drake University, offers a nationally accredited Certified Public Manager® (CPM) program.
CPM is an intensive learning experience designed for supervisors, managers, executives, management staff, and project managers from federal, state, county, and local governments. The program includes discussion, traditional classroom experiences, and on-line learning. Participants also complete one job-related team project, which gives them the opportunity to apply theories, principles, and/or techniques learned in the CPM program to a situation, problem, concern, or opportunity in a public organization.
Applications for CPM can be downloaded.
More Information:
CPM Cohort 31 to start January, 2019!
Interested in the schedule? Here it is.
Visit Drake University website: http://www.drake.edu/cps/certifiedpublicmanagerprogram/
Visit the National Certified Public Managers website: http://cpmconsortium.org/
Read the CPM FAQ for answers to these common questions and more:
What about the time commitment?
I manage a program, not people. Would I get anything out of the program?
How is this going to really benefit my organization?
I already have my Master's degree. Why would I want to do CPM too?
The cost seems high. Are there any payment plans available?