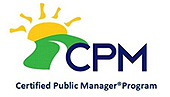 Developing today's public leaders through CPM
In an effort to maintain Iowa's high level of commitment to its citizens, the State of Iowa, in partnership with Drake University, offers a nationally accredited Certified Public Manager® (CPM) program.
CPM is an intensive learning experience designed for supervisors, managers, executives, management staff, and project managers from federal, state, county, and local governments. The program includes discussion, traditional classroom experiences, and on-line learning. Participants also complete one job-related team project, which gives them the opportunity to apply theories, principles, and/or techniques learned in the CPM program to a situation, problem, concern, or opportunity in a public organization.
Applications for CPM can be downloaded.
More Information:
CPM Cohort 32 to start July, 2019!
Interested in the schedule? Here it is.
Visit Drake University website: http://www.drake.edu/cps/certifiedpublicmanagerprogram/
Visit the National Certified Public Managers website: http://cpmconsortium.org/
Read the CPM FAQ for answers to these common questions and more:
Congratulations graduates - Cohort 28 Fall 2018:
The 28th cohort class of professionals completed the 18-month curriculum and now hold the nationally recognized professional designation Certified Public Manager®.
Cohort consisted of: Gary Kilcollins Jr., City of Wes Des Moines; William Skare, City of Boone; Deanna Popp, Iowa Dept. of Transportation; Jeremy Johnson-Miller, Iowa Dept. of Transportation; Mark Holm, Iowa Dept. of Transportation; Nichole Martens, Iowa Dept. of Transportation; Jeffrey von Brown, Iowa Dept. of Transportation; Thomas Reis, Iowa Dept. of Transportation; Steven Garrison, Iowa Dept. of Public Health; George (Chris) Knudson, City of West Des Moines; Patrick Phelan, Des Moines Fire Department; James William Mugeni, self-employed; Mailachalam Shanmugam, Iowa Public Employees Retirement System.