Service • Efficiency • Value
DAS will be an organization of excellence,
providing services and support to meet our stakeholder agencies' needs
and ever mindful of good stewardship in resource utilization.
Read more
The Patient Protection and Affordable Care Act (ACA) was enacted by Congress in 2010 to increase the number of Americans covered by health insurance and decrease the cost of health care. These pages provide information to state employees for federal tax filing purposes.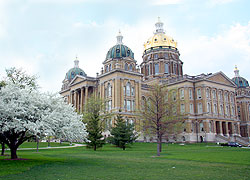 Welcome to the Iowa Department of Administrative Services events homepage.
You will find tools here to streamline your event scheduling and help you determine the right space for your event.