Lactation Rooms on the Capitol Complex
There are eight lactation rooms available for use on the Capitol Complex. Each room is equipped with a chair, sink (except Workforce Development), and a surface for equipment and educational materials.
The rooms are located at: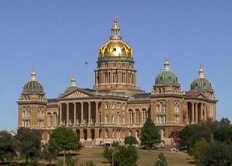 Capitol
Grimes
Hoover
Lucas
Public Safety
Wallace (2 rooms)
Workforce Development
What is a lactation room?
A lactation room provides a private place where employees may nurse babies or pump breast milk to take home for later use.
Why have lactation rooms?
Lactation rooms provide support for women who choose to continue breastfeeding when they return to work.
Benefits of Breastfeeding
For Mom
Fewer missed days of work as breastfed babies are healthier
Lower incidence of breast and ovarian cancer
Saves money in the family budget
For Baby
Lower incidence of ear and respiratory infections
Fewer allergies
Protects against SIDS
For the Department
Less time off used by breastfeeding employees since their babies will be healthier
Less staff turnover; a working mother who can successfully continue to breastfeed will be happier with her job
Saves health care dollars as breastfeed babies have fewer doctor visits and are admitted to the hospital less often
Contacts for the Capitol, Hoover, Lucas and Wallace Buildings
Nicole Newman (primary contact)
515-281-4545
Nicole.Newman@idph.iowa.gov
Nikki Davenport
515-725-2642
Nikki.Davenport@idph.iowa.gov
Kimberly Stanek
515-281-7119
Kimberly.Stanek@idph.iowa.gov
Contact for Grimes
Kayli Burkhart
515-281-3411
kayli.burkhart@iowa.gov
Linda Choate
515-281-3038
linda.choate@iowa.gov
Contact for Department of Public Safety Building
515-725-6001
Contact for Iowa Workforce Development
515-281-7023
---
Updated 03/12/2019