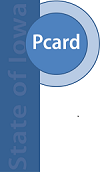 Welcome to the State of Iowa Purchasing Card Program official resource site for State employees.

Log on to Access Online any time to
view transactions, allocate expenses and print statements.
Call 24 hours a day, 7 days a week.
To report lost or stolen cards: U.S. Bank Customer Service – 1-800-344-5696
To report fraudulent charges: U.S. Bank Fraud Department – 1-800-523-9078
For Access Online cardholder support: Help Desk – 1-877-887-9260
Purchasing Card Resources

General

Access Online User Guide

Payment Processing

Vendor-Related

Risk Management

Purchasing Card Forms

Training

Procurement Resources

DAS Central Procurement website - c

urrent contracts, Purchasing Administrative Rules, Procurement Policies & Procedures, information on the Targeted Small Business Program, and Forms

Travel Resources

---

State Pcard Program Contacts

Jacquie Holm-Smith, 515-725-2892

State Pcard Program Manager

Barbara Sullivan, 515-281-5922

State Pcard Program Specialist
Procurement Quick Reference: Unless purchasing from an existing agency contract or Master Agreement (a competitively bid contract for statewide general use) …
Three (3) informal quotes must be obtained for purchases up to $50,000 IF purchases are: a) goods above $1,500 from a non-contract vendor; b) services above $5,000 from a non-contract vendor, or c) from a certified TSB in excess of $10,000.
Purchases between $5,000 and $50,000 require Advanced Procurement Authority.
All purchases of goods in excess of $50,000 require oversight from DAS Central Procurement.
Goods or service contracts above $25,000 may require Iowa Department of Management (IDOM) approval. (Some exceptions apply; see IDOM Approval Form.)
IT hardware or software purchases estimated in excess of $25,000 require prior approval by the Office of the Chief Information Officer (OCIO). Complete Step 1 – Approval to Initiate IT Project Form, or Step 1A – Approval to Initiate Hardware/Software Only Form, or contact ITrequests@iowa.gov.
A Pre-Contract Questionnaire (PCQ) is required with any service purchase of $1,000 or more (one-time or in aggregate).
For more information or clarification on Procurement code and guidelines,
refer to the DAS Central Procurement Policy and Procedures Manual.