Required Training
Pcard 101 and Travel Card 101 are required training for Cardholders and Pcard Coordinators, depending on the cards issued. A short quiz follows each module, with instructions provided for saving and submitting your results.
Please note:
- These recorded modules will begin as soon as the training link is selected.
- Each module is intended to be taken in a single continuous setting.
- Once started, the session may be paused using the pause button in the lower right-hand corner of the screen. There is no "back" button.
- If you experience difficulties generating and/or printing results, go to Tools - Compatibility View Settings and select the Display all websites in Compatibility View box.
- Adobe Flash is required to view Pcard 101 and Travel Card 101 online modules.
- Try Google Chrome if you have difficulty viewing in Internet Explorer.
- Please review the Quiz Instructions in advance to avoid unnecessary "do-overs"!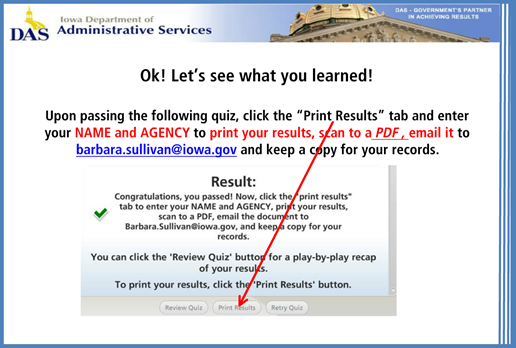 Pcard 101

– Please allow 35-40 minutes to complete this module and quiz.

Travel Card 101

– Please allow 15-20 minutes to complete this module and quiz.
For assistance, please contact Barb Sullivan at Barbara.Sullivan@iowa.gov, 515-281-5922.
---
Access Online Training
Access Online is U.S. Bank's web-based card management system for monitoring transactions, allocating expenses, and printing statements.Training is recommended depending upon an Agency's internal policy for cardholder and Pcard administrator use.
For a quick Acess Online preview, see An Introduction for State of Iowa Employees.
For more detailed training, check out U.S. Bank's Web-based training and additional resources below.
---
Access Online Web-Based Training

1. Log on to US Bank. (Training link in lower left nav.)

2. "Register" to create custom Learning Plan, track progress & print certificate.

3. Print this page and select Guided Simulations noted below.

Access Online Quick Guides

For Cardholders & Agency Pcard Coordinators

Access Online Recommended Curriculum

Guided Simulations (for Cardholders & Agency Pcard Coordinators/Administrators)

Getting Started

Online Registration

Logging In

​Navigation Basics

Passwords

Contact Information

​View Cardholder Statements

Working with Transactions

View Transactions

Reallocate Transactions

Guided Simulations (for Agency Pcard Coordinators/Administrators only)

Working with Transactions

Mass Reallocate Transactions

Create and Run Reports and Statements

Additional Resources

For Agency Pcard Coordinators/Administrators only

Contacts

Barbara Sullivan 515-281-5922, State Pcard Program Specialist