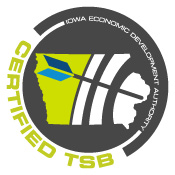 Iowa's Targeted Small Business (TSB) Program is designed to help women, individuals with minority status, service-disabled veterans, and individuals with disabilities overcome some of the hurdles to starting or growing a small business in Iowa.
It is administered by the Iowa Economic Development Authority in partnership with:
Resources:
TSB Fact Sheet
TSB Procurement Tipsheet
Certified Targeted Small Business Directory 
Program Overview
The benefits of becoming a Certified Targeted Small Business include:
Access low-interest business loans of up to $50,000.
Receive FREE Business Support. Loan recipients are paired with free business counseling. Even if you do not have a loan, we can connect you with qualified professionals.
Access the 48-Hour TSB Procurement website. This dedicated website features all state agencies' buying needs 48 hours BEFORE the public sees them. This gives you a "head-start" in responding to opportunities.
Sell goods and services to state agencies. TSBs are exempt from the competitive bidding process for purchases up to $25,000.
Join the TSB Online directory used by public and private sector entities.
Be recognized as a member of a select group of small businesses. This distinction adds value to your business and is recognized by other public and private sector buyers.
Take advantage of Education & Networking Opportunities. TSB partners offer educational seminars, webinars and workshops throughout the state that provide valuable information and connections to help grow your business.
For TSB Certification and program information, visit iowaeconomicdevelopment.com/TSB,
contact Jill Lippincott at 515-725-3132 or Jill.Lippincott@IowaEDA.com, or see the TSB Fact Sheet.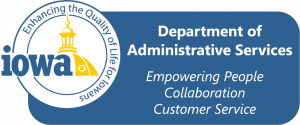 The State's procurement responsibilities for goods and services of general use are centralized within the Department of Administrative Services Central Procurement Bureau (DAS CPB). However, state agencies may, with limitation, purchase goods and services directly to meet their specific needs; all agencies are required to set annual TSB spending projections.
 
When doing business with the State, Certified Targeted Small Businesses:
Have access to a dedicated website that lists bid opportunities 48 hours before public posting.
Can sell goods and services valued up to $25,000 to state agencies without being subject to state competitive bid requirements.
Are listed on the Targeted Small Business Directory, which is used by public and private entities to identify partners and suppliers who meet diversity guidelines.
Can use the TSB Directory to network and partner with other TSBs.
If doing business with the State is one of your goals, remember that building business relationships takes time and effort. Get to know the agencies' needs and appropriate contacts. Be realistic in your expectations, Bid on opportunities and continue to actively market your business to all potential clients.
 
To help you make the most of state procurement opportunities, take advantage of these resources and tips:
Once you are certified you will receive a link and password for the 48-hour TSB website.  The site provides advance notice 48 hours before procurement bids are made public. For more information about a specific bid, contact the purchasing agent listed.
You also have access to the complete list of current bids open to the public.
To receive email notifications and respond on-line when bid opportunities matching your commodity criteria are posted, register at Vendor Self Serve-VSS.
Remember, State agencies have different levels of procurement authority with unique needs. Find the appropriate purchasing agent or agency contact and be proactive in marketing to them.
Once you have been awarded a state contract or purchase order, you will need to become a registered vendor with the State of Iowa. To get started, follow these steps.
For more information about doing business with the State of Iowa, visit the DAS CPB website,
contact Karl Wendt, (515) 281-7073, or see the TSB Procurement Tipsheet.

Access to financing is often a challenge for small business owners. The TSB Loan Program - funded by the Iowa Economic Development Authority (IEDA) and managed by the Iowa Center for Economic Success - offers low interest loans to qualified TSBs.
 
TSBs can apply for loans to start or expand a business, subject to the following:
Maximum loan amount is $50,000.
Maximum interest rate is 10 percent.
Successful applicants will have up to 5 years to repay the loan.
The loan application is fully reviewed by the Iowa Center for Economic Success.
Loan funds can be used for business improvements and expenses, including but not limited to, the purchase of equipment, furnishings, inventory, and specific operating expenses.
Loan funds CANNOT be used to refinance or consolidate existing debts.
To apply or learn more, visit the Iowa Center for Economic Success website, or contact TJ Daniels at 515-283-0940.
To find out more about the benefits of becoming a certified TSB,
contact any of the Iowa Targeted Small Business Program partners.