Capitol Complex Walking Paths
State of Iowa employees and the public are invited to take a step in joining a new initiative to get walking on the Iowa Capitol Complex. The Iowa Department of Administrative Services and the Iowa Department of Public Health have partnered to identify walking routes of various lengths so the more than 3,500 employees who work on the Complex can easily identify a path to enjoy a stroll or a brisk walk. Estimated times assigned to each path also make it easy to plan how to fit a walk into the day.  The Iowa Capitol Complex offers beautiful views, history, and a chance to get moving and feel fit. Check out the map below to decide your best path in experiencing what the Complex has to offer while enjoying some fresh air.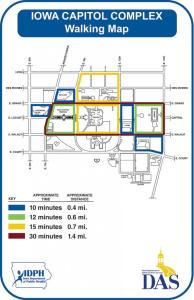 Benefits of Walking
Employees on the Complex are encouraged to meet at the walking path sign closest to their building to walk along the 1.4 mile red route. Enjoy the Capitol's historic monuments,  Farmers Market, or graze among Mobile Food Vendors over the lunch break. 
The Centers for Disease Control and Prevention says walking briskly for two-and-a-half hours each week helps you meet the official Physical Activity Guidelines. Walking also helps you maintain a healthy weight and can prevent or manage various conditions including heart disease and blood pressure.*
Walking Path Routes
The Walking Map shows nine routes varying in distance from .4 to 1.4 miles. Employees and the public can take advantage of these convenient walking options which can be completed within ten to 30 minutes depending upon the route you choose. Signs with the paths are posted near the entrances of facilities on the Complex. To locate a walking path sign click the link – view or print the walking path sign locations.
* Source - Centers for Disease Control
For more information about the Walking Paths, please contact Amy Liechti at 515/422-7156 or Amy.Liechti@iowa.gov
Iowa Department of Administrative Services
1305 E. Walnut St.
Des Moines, IA 50319