Today we are faced with tight budget controls, increased accountability and a drain of our talent and knowledge as workers retire. Organizations that invest in employee development through CPM benefit from the CPM participant's enhanced skill set and strengthen their workplace by having fully developed managers who function in critical support roles.
The CPM program is an affordable way to offer employees a comprehensive educational experience that enhances an organization's performance.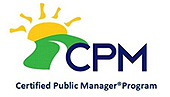 Developing today's public leaders through a nationally accredited program that is based on the highest professional, educational, and ethical standards.