With careful planning your diet and food selection can help improve you and your family's health. Here are some tools and services that will help!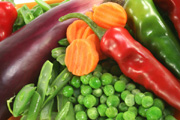 You may want to begin by using SuperTracker. This online dietary and physical activity assessment tool provides information on your diet quality, physical activity status, related nutrition messages, and links to nutrient and physical activity information. This is a great place to start.
Take some time to learn about the nutritional information in the foods you eat – whether you make them at home or eat on the run.
Weight management is a common goal. A proper diet is critical in your efforts to manage your weight. Find out what you should be eating, when and portion sizes. No fad diets here! The Iowa Department of Public Health offers great tips on snacking, including fruit and vegetables fact sheets, on their Pick a Better Snack & Act website.
Make sure your food provides the nutrition you need and doesn't sacrifice flavor while controlling calories. Contrary to popular belief there are tasty recipes that are very healthy! Included in each recipe are food exchanges.
Other resources
---
updated 08/12/2018