The State of Iowa recognizes the challenges of balancing work and the demands of everyday life. The DAS Healthy Opportunities website provides a wide array of information designed to empower you to take charge of your health.
---
Healthy Opportunities News and Information
Notice Regarding Wellness Program
---

Newly Eligible Employees to the Healthy Opportunities Program
Participation in the Healthy Opportunities Wellness Program is an annual event. In order to receive the premium reduction, the Healthy Opportunities program requirements must be completed in each plan year during which the premium reduction will be received. Most employees who wish to participate will complete the requirements during each year's annual campaign. This process may be handled differently for newly eligible employees (new hires, promotions/demotions, transfers, or reclassifications). Please review these examples carefully.
Depending upon when an employee becomes eligible, he/she may have to complete two biometric screenings (one for 2016 and one for 2017) and two online health assessments (one for 2016 and one for 2017) within a short time period.
---
Healthy Opportunities Wellness Program
Worksite wellness programs are widely regarded as an organizational strategy that can be used to address employee health and well-being with the opportunity to positively impact morale, safety, productivity, recruitment, retention and health care costs. These programs benefit both the employee and employer.
The State of Iowa invites you to participate in the Healthy Opportunities Wellness Program. The program seeks to promote and support health awareness, individual responsibility for a healthy lifestyle, decreased risk of disease and enhanced quality of life.
The Healthy Opportunities program is administered by the Department of Administrative Services – Human Resources Enterprise. The annual campaign is held in late summer/early fall. Employees eligible to participate are Executive Branch Non-Contract staff, new hires and Executive Branch Non-Contract SLIP Retirees.
Additional information about the program, fitness center discounts, Wellness Champion network and many other related topics can be found in the navigation on the left. We hope you'll take advantage of the health and well-being opportunities that the State of Iowa has made available to you for your health, your future.
---
Walking ... A Capitol Idea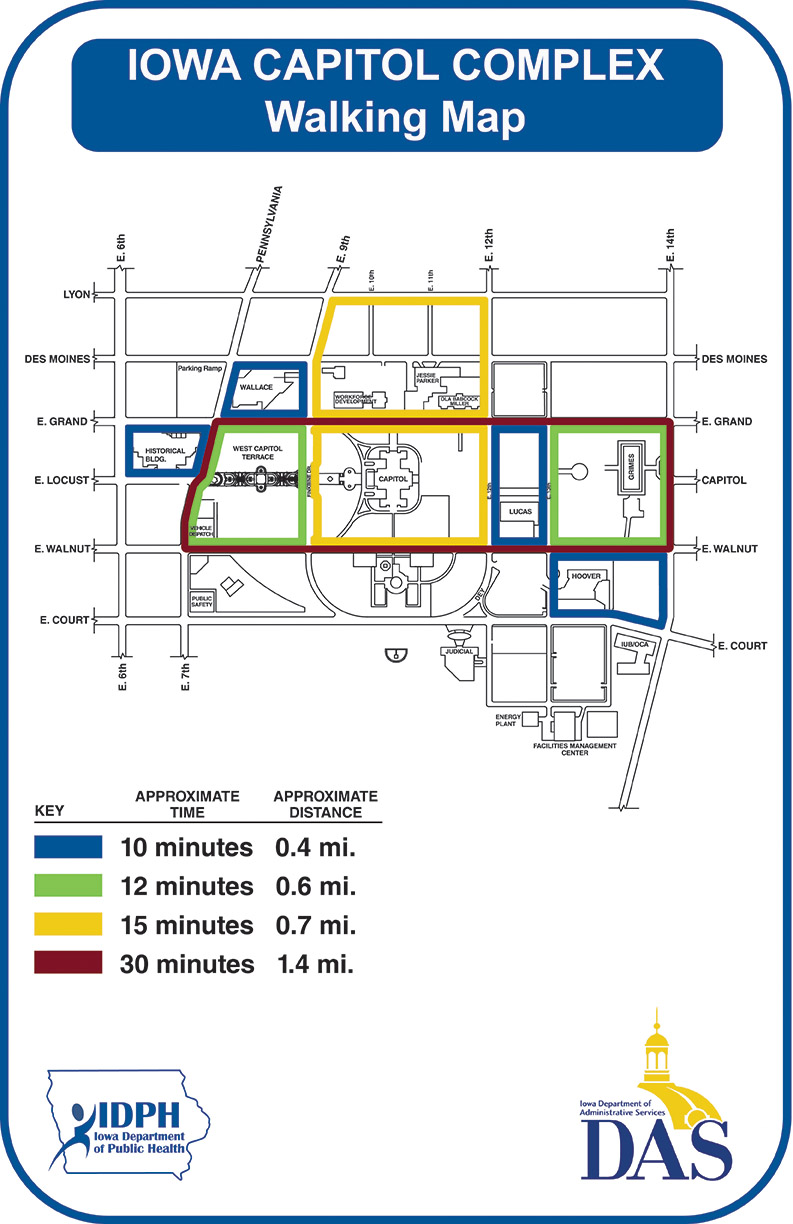 ---

Blue, Wellmark's quarterly member magazine, is packed full of helpful articles for members.