Employee Benefit Providers IowaBenefits
---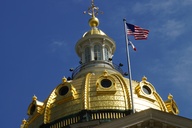 The State of Iowa's commitment to its employees is demonstrated by the compensation and benefits package provided to you by the State of Iowa. In addition to your direct compensation as a State of Iowa employee, a significant amount is spent on the benefit plans available to you and your family.
The State of Iowa offers employees one health plan (administered by Wellmark Blue Cross and Blue Shield) with two provider network options.
The dental plan provides coverage for a broad range of preventive services and comprehensive coverage for most conditions requiring dental diagnosis and treatment, including orthodontic treatment for children.
The State of Iowa's life insurance plan provides your family financial protection in the case of your death. If you are a full-time benefit-eligible employee, the life insurance plan provides you with a basic term life insurance benefit at no cost to you. In addition, you have an opportunity to purchase additional life insurance coverage at very economical group rates through payroll deduction.
State employees are eligible for a variety of leave.
The State provides you with long term disability insurance if you become disabled. The State pays the full cost of this life insurance coverage.
The Employee Assistance Program (EAP) is a confidential, professional service to help you and your family members deal with problems before they begin to affect your health, happiness or success.
The Employee Discount Programs allows you to save money by offering savings on popular goods and services.
You may defer a portion of your salary on a pre-tax basis to pay for unreimbursed health, dental and dependent care expenses.
Through the State's wellness program, "Healthy Opportunities," a variety of wellness services are available to employees, such as discounts at fitness centers, wellness information, personal health assessment, on-site health screenings, webcasts, and stop-smoking assistance to list just a few.
All employees are covered by the State of Iowa Worker's Compensation Law. The law covers on-the-job accidents and occupational diseases. Benefits are determined by the State of Iowa statute.
---
Automatic Payroll Deduction Program (APD)
The APD Program allows you to:
Review participating vendor product and service information at your worksite on non-work time.
Select optional insurance coverage not provided by the State under your current employee benefit package.
Pay for optional insurance benefits through payroll deduction from your after tax take home pay.
Automatic Payroll Deduction Program Vendors

The State of Iowa does not endorse or sponsor any vendor, or the products and services they provide.
---
The Benefits Management Team of the Iowa Department of Administrative Services developed this website to provide you with information about your benefit options, and serve as a valuable resource for information about your benefits. The benefits described at this website are subject to change. Nothing herein shall be construed as a guarantee of benefits. This website is not a complete description of the State of Iowa's benefit plans. Nothing on this website supersedes or changes any of the terms and conditions of any plan documents, insurance policies, or other legal agreements. If the wording in this website contradicts any plan documents, laws, regulations, administrative rules, insurance policies, or other legal agreements, the wording in the official documents and agreements will govern. If you have any questions, please contact your Human Resources Associate.
---
Updated 12/17/2018