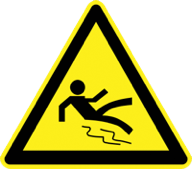 Winter weather creates unique hazards that can contribute to falls and injuries. When frost, ice, or snow make sidewalks and parking lots slick remember:
Even when treated, walking surfaces can remain slick.
ALL wet, dark areas on walking surfaces can be black ice.
A light dusting of snow can hide ice.
Keep hands empty and out of pockets, use arms for stabilization.
Wear gloves in case you need to break a fall.
Don't let scarf or hat impair your vision.
Wear boots or other slip-resistant footwear.
Don't text and walk at the same time.
Use a backpack if needed.
Bend your knees slightly, keep feet flat, and take slower, shorter steps
Watch for slippery floors when entering buildings.
By staying alert and following a few tips, we can stay safe and avoid injury when walking outside on snow and ice.